St. Louis Radon Testing
CRM - Continuous Radon Monitor Testing
Great for real estate transactions
48-hour testing with immediate results
Graphed hourly results
Most preferred short term testing option
Professional staff with Supra keys for real estate transactions
Next day and Saturday appointments available.
Appointments can be scheduled on-line. Click on the tab on in the top right corner
We offer professional radon measurement with the 1028 Sun Nuclear Continuous Radon Monitor. Test results include a grahical representation of the radon concentration for every hour deployed, along with overall and US EPA average readings.

St. Louis Radon's monitors are calibrated annually by an EPA approved laboratory. They're also subject to QC/QA program and continuously checked throughout the year to verify accuracy.

CRM machines have tamper resistant features that detect device movement.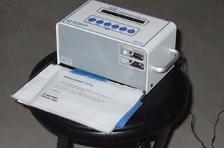 ---
E-PERM System - Electret Passive Environmental radon/radiation monitor
An electret ion chamber
An E-PERM is comprised of two components

an electret
a special chamber that will allow ionization to occur

Great for real estate testing
48-hour testing with same day results
Next day and Saturday appointments available
Radon Gas in Missouri
The US Surgeon General strongly urges every home, school and office in the US to be tested for Radon gas.
About 1 in 15 homes across the United States is estimated to have Radon levels exceeding the EPA's action level. 1 in every 5 homes in Missouri are believed to be above the acceptable EPA limit.
Most radon mitigation systems in Missouri are installed in homes that had initial readings between 4-10 pCi/L. Homes are occasionally above 20 pCi/l, however, we have mitigated homes with over 80 pCi/L.
All homes should be tested in a real estate transaction, even if they have a radon mitigation system. Homes with radon systems should be retested at least every two years.
---
Testing is the only way to know if you have elevated levels of radon.