Announcing the National Radon Poster Contest Winners

Thank you to everyone who participated in online voting for the National Radon Poster Contest! We appreciate your excitement for the contest and help in selecting this year's winners. Over 100 votes were cast during the online voting period. Also thanks to all of the state radon programs who conducted radon poster contests.
This year's poster contest nominees were chosen based on a wide variety of criteria including:
Content accuracy
Visual communication of topic
Reproducibility
Originality
The following posters have been selected as award winners for the National Radon Poster Contest:

First Place ($1,000.00 gift card)
You May Be Living With a Killer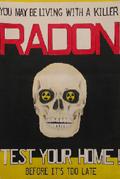 Laura, Age 14
New York, NY

Second Place ($600.00 gift card)
Has Your Home Been Tested for Radon?


Hayden, Age 11
Athens, GA

Third Place ($400.00 gift card)
Test Your Home for Radon


Jorgia, Age 14
Weston, FL
Special Mention ($400.00 gift card)
Radon Can Cause Lung Cancer


Claire, Age 12
Omaha, NE



National winners will receive award plaques and gift cards for their help in raising awareness for radon testing and informing people of the danger of radon in their homes. These winners will also be recognized and highlighted in the state and EPA region where they live. In addition, the posters will be reproduced and distributed nationally to promote radon awareness.
You can also continue to build awareness for radon in your community by recognizing this year's national and state contest winners. For ideas on how to promote the Poster Contest, check out our Building on Success in the Poster Contest Outreach Kit. Also, visit our organizers page for outreach tools as well as a downloadable press release to promote your state's contest winners.
To see the complete list of Radon Poster Contest national and state winners click here. Once again, congratulations to the winners and thank you again to all participants!
The National Radon Poster Contest is conducted by Kansas State University under a cooperative agreement with the U.S. Environmental Protection Agency.